Overcome
depression

with the right treatment
Depression is a mood disorder that can affect all aspects of your daily life. Are you struggling? Take your mental health seriously. Connect with a licensed healthcare provider on Klarity and begin to take back control of your life with online depression treatment.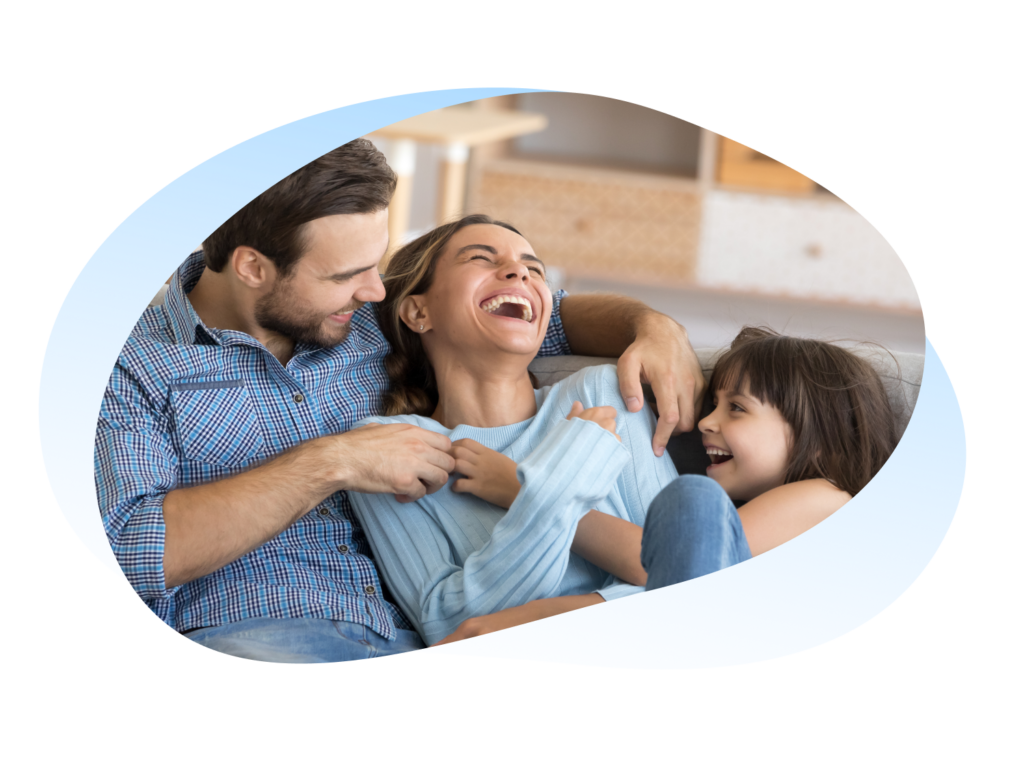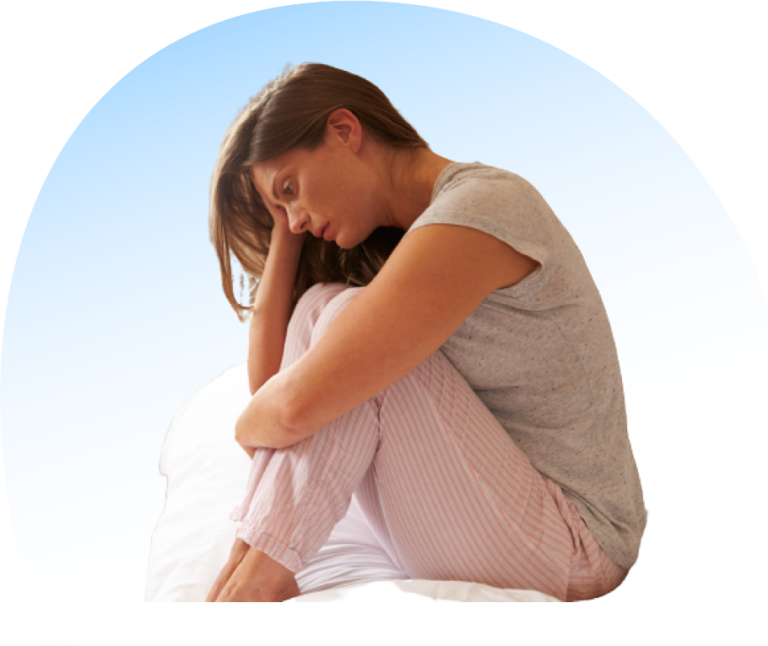 Almost 1 in 5 Americans will suffer from depression at some point in their lives.
Sadness is a very common emotion and will typically pass with time. However, if you're feeling sad, unmotivated, or having trouble seeing the good parts of life for more than 2 weeks, you may be suffering from major depressive disorder.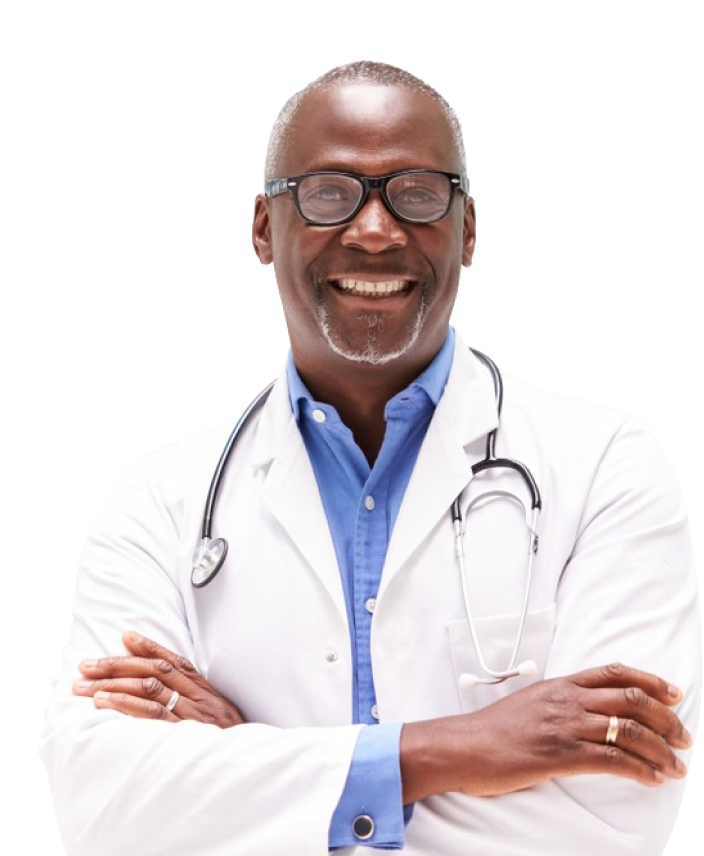 Not sure if you need a treatment? Take a free 2-min online evaluation.
Our free, 2-minute online assessment will help you evaluate your mental health symptoms to get a better understanding of your mental health and help match you with the right mental health professional. 
Depression can affect anyone. Luckily, there are many effective treatments available.
There is a lot more that goes into depression than sadness. If you are currently experiencing a few depressive symptoms on the right for more than 2 weeks, talk to a psychiatric expert on Klarity today.
There is a lot more that goes into depression than sadness. If you are currently experiencing a few depressive symptoms on the right for more than 2 weeks, talk to a psychiatric expert on Klarity today.
Board-certified providers specialized in depression
Klarity only partners with the best. The providers on our platform are board-certified, licensed professionals averaging 10+ years of experience in treating depression and related mental health conditions.
Nathan Santibanez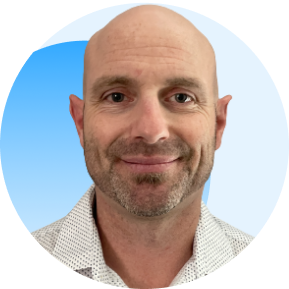 PMHNP-BC
6 years of experience
As a board certified Psychiatric nurse practitioner with diverse Nursing experience, I built a foundation for understanding the whole body that expands beyond mental health. My philosophy is to address the root cause of mental health conditions, rather than treating surface symptoms only. I believe that everyone should have access to high quality, non-judgmental mental health care.
Mark Bender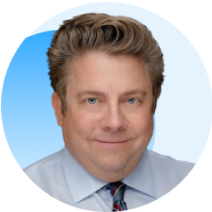 PA
10 years of experience
With over 25 years of experience as a physician assistant in a variety of health care settings, I am committed to the whole person concept and improving the quality of life of patients with complex medical conditions and their family members in various settings. My goal is to help patients live healthier and well-balanced life.
Maria Lourdes Martinez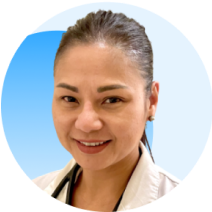 FNP
10 years of experience
I am a dedicated and certified Family Nurse Practitioner with more than 13 years of nursing experience. I encounter and am able to treat adult patients who present with symptoms of ADHD, depression, and anxiety at the same time managing their medical conditions based on current guidelines and evidence-based practice.
Getting started with online depression treatment is easy
Experiencing depression is difficult, but getting treatment shouldn't have to be; depression is treatable. This is why we are here – to match you with mental healthcare rooted in understanding and empathy.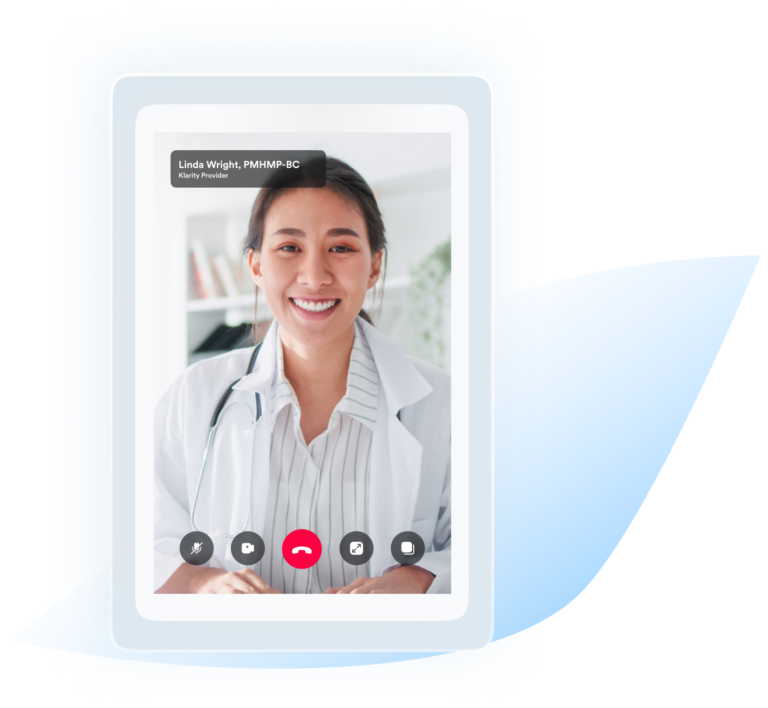 Attend initial online visit
Take our free, 2-minute evaluation or search the providers on Klarity to find a licensed professional in your state. Then schedule a private telehealth appointment.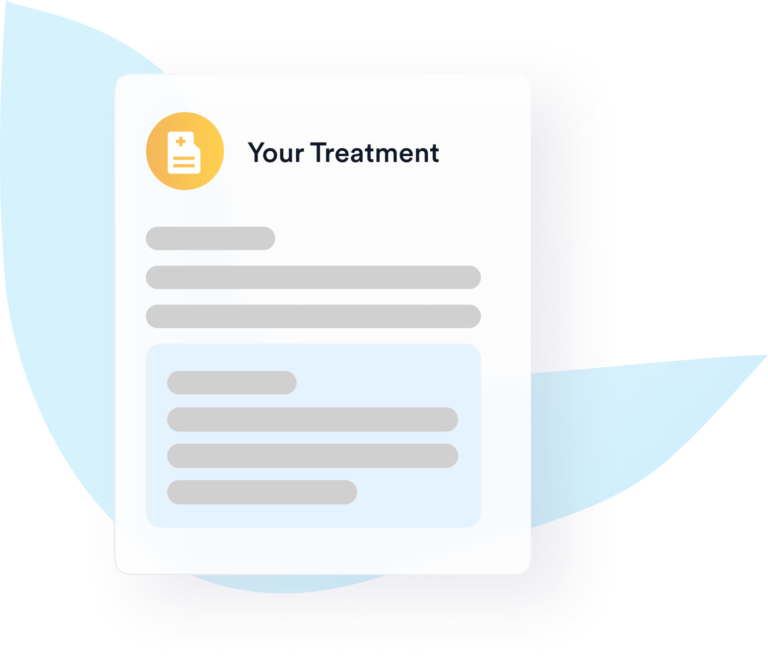 Discuss evaluation & treatment plan
During the first visit, you and your provider will discuss your symptoms, medical history, and develop a personalized treatment plan.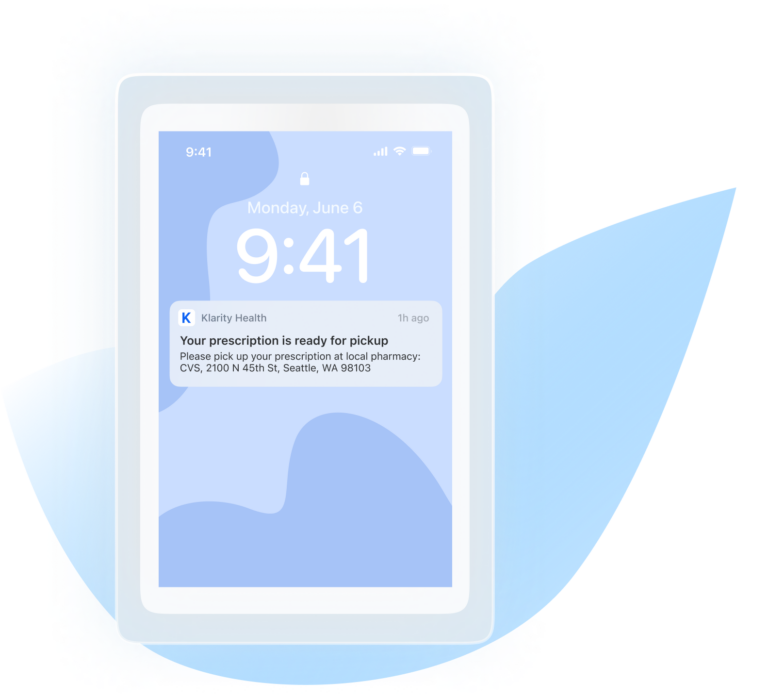 Receive your first treatment
If your provider determines depression medication as the best form of treatment for your symptoms, they will send prescriptions to the local pharmacy of your choice so you can start treatment the same day.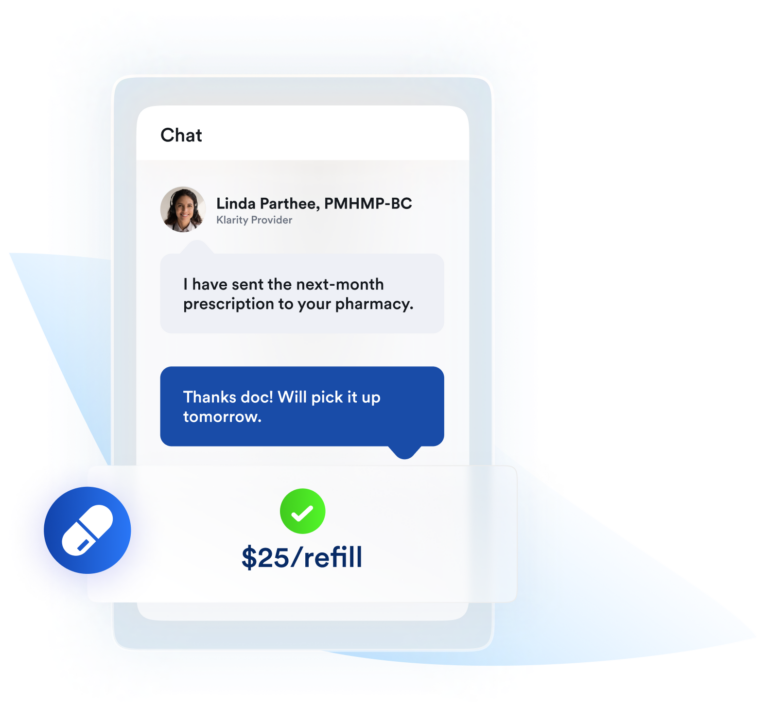 After your initial visit and evaluation, you and your provider will meet regularly to track your progress and adjust your treatment, as needed. If the medication is working for you with few side effects, you may qualify for direct prescription refills sent to your pharmacy each month.
These are real testimonials from real patients working with practitioners on the Klarity Platform.
Truly affordable.
Pricing designed with you in mind.
No subscription, health insurance coverage, or membership required. No hidden fees.
Please note that the pricing for in-person visits may vary based on various factors such as location, the private practice's pricing, and other considerations.
*When switching to a new provider, Klarity discounts the initial visit fee ($149) to be equivalent to the follow-up visit fee ($59). There is no net new cost to switch to a different provider.
Frequently asked questions
Drug interactions occur when one prescription medication interacts with another medication or substance in a way that causes harm to the patient. For instance, a patient taking blood-pressure medication shouldn't take a prescription for depression listing high blood or low blood pressure as side effects.
Though depression is usually treated with a blend of psychotherapy and prescription medication, some patients may find alternative therapies beneficial. Some of these include herbal remedies, acupuncture, meditation, and reflexology.
The medical professionals on Klarity don't provide these therapies. The healthcare providers on our platform focus on prescriptions that can help you find relief from your depression symptoms immediately.
Experiencing a depressive episode—whether due to a traumatic event or a chemical imbalance—increases the likelihood of it happening again. Fluctuations in thoughts and moods create pathways in the brain. Once a certain pathway is created, it's easier for the brain to follow it again and again.
The best way to handle potential future episodes is to be prepared for them. Develop healthy coping mechanisms, follow your treatment plan, and seek help if you notice your depression worsening or returning.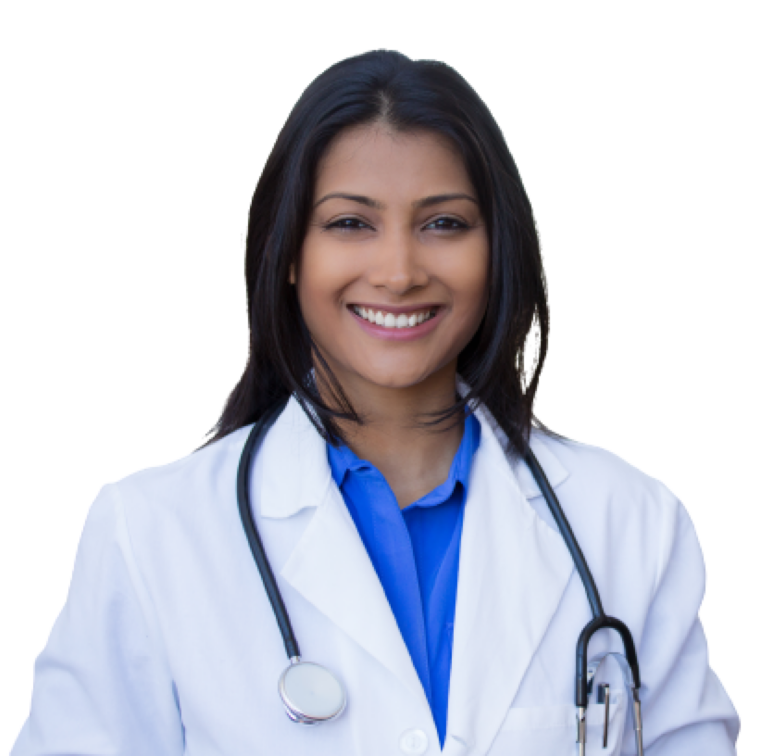 Get better today. Discuss your symptoms with an expert who can help.
With us, getting mental health care is as simple as booking an appointment, receiving a clinical depression diagnosis, and starting a treatment plan, if applicable. Begin today and meet with a healthcare provider in your state who is available within 48 hours.
Our Providers Proudly Serve Patients In: